At Blue Spruce Theatre, we intermittently produce extraordinary small works that tell stories of how we connect – or fail to connect – with the people and the world around us. This is our central mission. We hope that you will join us for our next production, which is currently under wraps. At this time, we don't have a regular "season" – we produce what we desperately want to – perhaps need to – and only when we can.
Our usual venue for our "mainstage" works is the Arsenal Center for the Arts in Watertown, MA; however, we are a bit of a wandering spirit when it comes to producing our works. Part of our mission is to produce outside of Boston when we can.
While we're not in "producing mode" right now, we do have three shows in the works, which we will unveil when it's time (hopefully later this year or early next). We also occasionally hold concerts at The Burren in Davis Square, Somerville, MA. These are pay-what-you-want events that feature our singers for the first half of the show, and then the rest is an open mic night where YOU get to strut your stuff! It's a great time for everyone – watch this space, or find us on Facebook or Twitter to be notified in a more timely manner. You can also click on the Mailing List link above and we'll deliver news to your Inbox.
About The Burren:
The Burren
247 Elm Street, Davis Square
Somerville MA 02144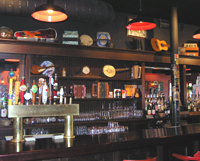 The Burren, a great rocky expanse in Ireland's County Clare, is one of the world's truly unique places. Its ancient, awe inspiring stone structures hold secrets from the past that may never be unraveled. Closer to home, The Burren, Irish Pub and Restaurant in Somerville's Davis Square, is now one of Boston's truly unique places. It captures the mythical nature of its namesake with a rich old world feel that takes hold and slowly pulls you toward another time.
Blue Spruce Theatre is a proud member company of the Small Theatre Alliance of Boston.